Fullerton Markets Officially Launches Cryptocurrencies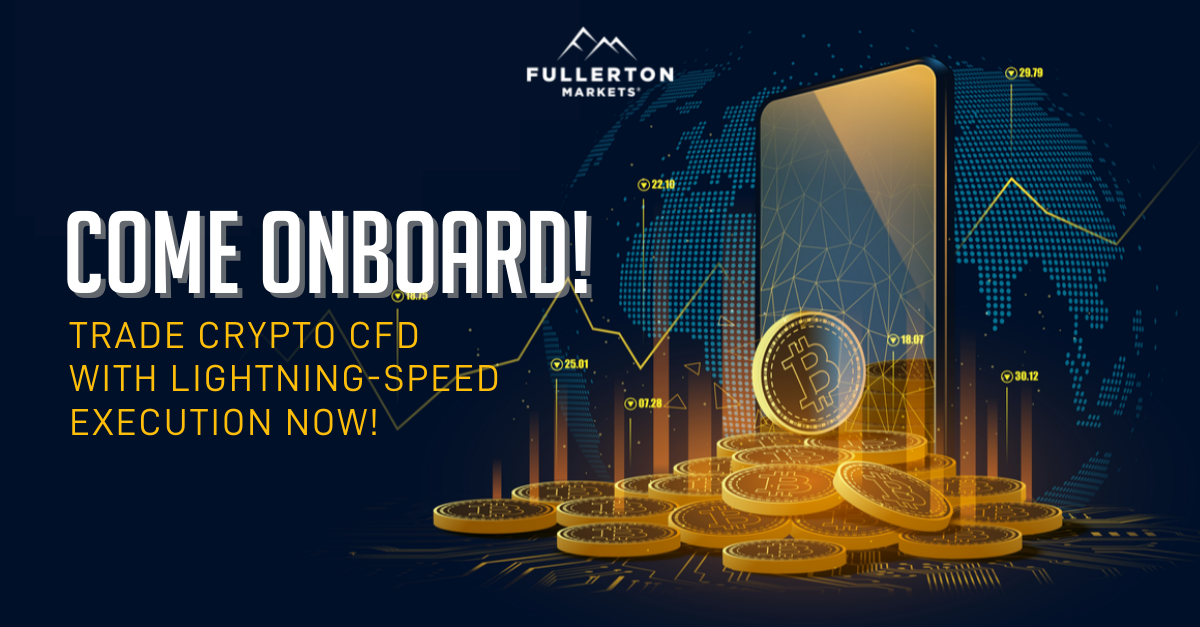 Fullerton Markets has officially announced the launch of cryptocurrencies, adding to their list of trading instruments. This offers a one-stop platform, providing convenience and efficiency, to cater to the trading needs of their clients.
Fullerton Markets chose this time to launch because the global crypto market capitalisation is nearing USD3 trillion with Bitcoin and Ethereum trading near their all time highs. Clients can now trade 10 of the most sought-after cryptocurrencies paired with US dollars:
ADAUSD Cardano / USD
BCHUSD Bitcoin Cash / USD
BTCUSD Bitcoin / USD
DOGEUSD DogeCoin / USD
DOTUSD Polkadot / USD
ETHUSD Ethereum / USD
LNKUSD Chainlink / USD
LTCUSD Litecoin / USD
XRPUSD Ripple / USD
XLMUSD Stellar / USD
Fullerton Markets offers the best liquidity with lowest latency connection to its extensive tier-one liquidity partners. All trades are executed directly without requotes. Fullerton Markets employs "Straight Through Processing" (STP), passing on customers' trades directly to its tier-one liquidity providers. Clients can come onboard, get that strategy going and start trading on Bitcoin, Ethereum, Cardano, Ripple or Stellar.
Mario Singh, CEO of Fullerton Markets, said, "Apart from being a disruptor in the trading industry, we also guarantee the best fund safety and security. We want all of our clients to have peace of mind when it comes to the safety of funds, so that they can focus on generating profits from the financial market."
As part of its launch activities, Fullerton Markets was an official strategic partner of the Global Bitcoin Festival 2021 (www.globalbitcoinfestival.com) which featured keynote speaker Michael Saylor, founder and CEO of data analytics firm MicroStrategy; a billion dollar company that also owns more Bitcoins than any other corporation in the world.
Fullerton Markets wants to provide its clients with the best trading execution available, adding cryptocurrencies to its existing products. This offers the brokerage's clients more convenience to trade on a single platform and to fill all orders at the requested rate. The fees are similar or better than renowned crypto exchanges such as Coinbase and Coinhako.
"We've envisioned ourselves as a disruptor in the trading industry since the beginning. And we've done exactly that, establishing a brand that takes pride in fund security, swift execution, and wealth creation." Mario added.
About Fullerton Markets International Limited
Fullerton Markets is an award-winning broker recognised for being a disruptive force in the trading industry. Committed to delivering unparalleled safety of funds, lightning-speed execution and a reliable system of wealth creation, it offers its global clients direct access to the world's largest financial market and promises price stability at competitive rates through its tier-one liquidity providers. Equipping clients with the necessary tools and knowledge, Fullerton Markets empowers traders to effectively compete in the market.
Also featured here: