Fullerton Markets clinched two more accolades this year, this time at the acclaimed World Finance Forex Awards 2018.
With its newly bestowed titles of "Best STP Broker" and "Best ECN Broker", Asia Pacific's fastest-growing brokerage firm cements its spot at the top, where it leads the industry in driving profits in an ever-evolving trading environment.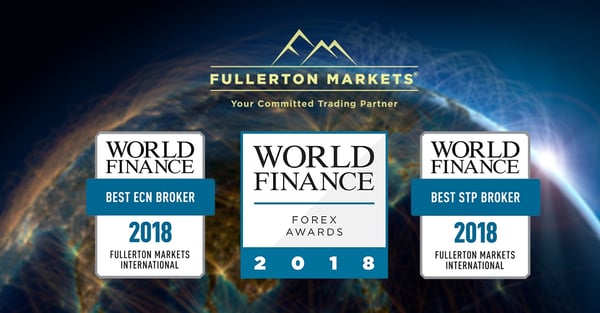 Fullerton Markets CEO, Mario Singh, said: "These awards are a huge recognition of our efforts to bring our clients the best trading action and help them adeptly navigate the global markets. While the industry has witnessed increased periods of volatility in recent years, Fullerton Markets remains consistent in promising and delivering safety of funds, lightning-speed execution and a system of wealth creation to traders everywhere. We're truly honoured to be the recipient of these awards."
As with World Finance's other award programmes, the annual Forex Awards is backed by a judging panel with years of experience in business and financial journalism. Since 2007, the UK-based publication has been recognising the achievements, innovation and brilliance of top performers in sectors such as banking, forex, insurance, corporate governance, pension funds and investment management. Through comprehensive analysis by its research team, the magazine identifies and celebrates the very best in each market.
These titles are another feather in Fullerton Markets' cap. Earlier this year, it received the "Best Research and Education Asia Pacific 2018" award by International Business Magazine. Driven by a dynamic research and education team and disruptive trading initiatives, the firm is well on course to amassing even greater achievements in the world's largest financial market.


Read more here:
https://seekingalpha.com/instablog/48518188-fullerton-markets/5235161-fullerton-markets-celebrates-wins-acclaimed-world-finance-forex-awards-2018
https://medium.com/@fullertonmkts/fullerton-markets-celebrates-wins-at-acclaimed-world-finance-forex-awards-2018-c3bf0a73cf2e
https://www.worldfinance.com/awards/world-finance-forex-awards-2018