Fullerton Markets has announced a white label partnership with NFX1 Group. This will offer NFX1 Group's clients access to Fullerton Markets' state-of-the-art trading infrastructure and dedicated backend support.
Headquartered in Ho Chi Minh City, Vietnam, NFX1 Group serves a fast-growing network of local traders, providing them with Forex training and education through workshops and seminars targeted at traders at all levels.
"We're committed to empowering our clients with the right tools and knowledge. Our partnership with Fullerton Markets will allow us to optimise the benefits of a fully integrated trading platform and our strengths in Forex education, so that we can deliver a highly secure and hassle-free trading experience. This will place our clients on the best path to financial success," said NFX1 Group's CEO, Tran Quang Thiet.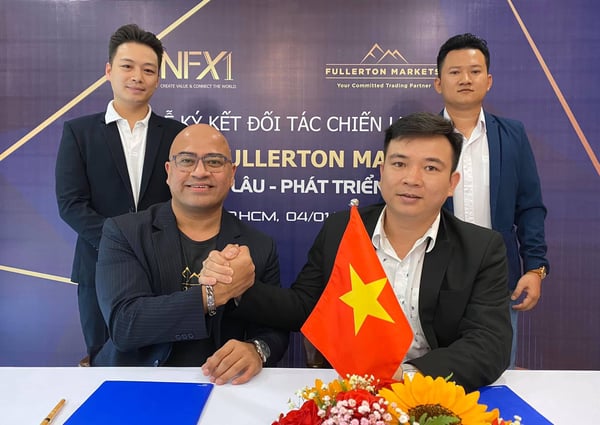 NFX1 Group can also look to leverage the support, infrastructure and expertise of the Fullerton Markets' team to further build its brand presence and expand its services to a wider market.
Said CEO of Fullerton Markets, Mario Singh, "We're delighted to have NFX1 Group as our partner. Fullerton Markets and NFX1 are very much aligned in our shared pursuit of bringing traders the best resources to excel in the financial markets. We've been witnessing NFX1 Group's amazing growth and are truly excited to be able to lend our support as it continues to lead the Forex education scene in Vietnam and beyond."
About Fullerton Markets International Limited
Fullerton Markets is an award-winning broker recognised as a trailblazing force in the trading industry. Committed to delivering unparalleled safety of funds, lightning-speed execution and a reliable system of wealth creation, it offers its global clients direct access to the world's largest financial market. It also promises price stability at competitive rates through its tier-one liquidity providers. Equipping clients with the necessary tools and knowledge, Fullerton Markets empowers traders to effectively compete in the markets.